Louis Vuitton Tambour Carpe Diem juxtaposes the beauty of life with the inevitability of death on a miniature automaton with extraordinary craftsmanship.
Louis Vuitton had already made up to the hearts of watch enthusiasts at the Watches and Wonders Fair with the Tambour Street Diver, Tambour Moon Flying Tourbillon "Poinçon de Genève" Sapphire and the breathtaking Tambour Curve GMT Flying Tourbillon series. As if all that were not enough, Tambour Carpe Diem also charm watch and art enthusiasts, from designers to historians, from fashion designers to architects, from artisans to painters…
It is a fact that high-end fashion brands distance many brands in creativity. When it comes to a world giant like Louis Vuitton, so to speak, an "over" brand, things come to a completely different point.
As is known, skull is a popular figure that is widely used in fashion and art. Like the phrase "Memento Mori" which means "remember death" in Latin, it is a symbol that emphasizes that life is temporary, and it appears everywhere. A similar approach is seen in the phrase "carpe diem", which means "pluck the day", taken from the poem of the Roman poet Horatius. The line of the famous poem that starts with "carpe diem" continues: "quam minimum credula postero", that is, "put extraordinarily little trust in tomorrow".  "Life is short / Birds are flying" in Cemal Süreya's poem "Kısa" , he seems to have translated this poem as short as possible.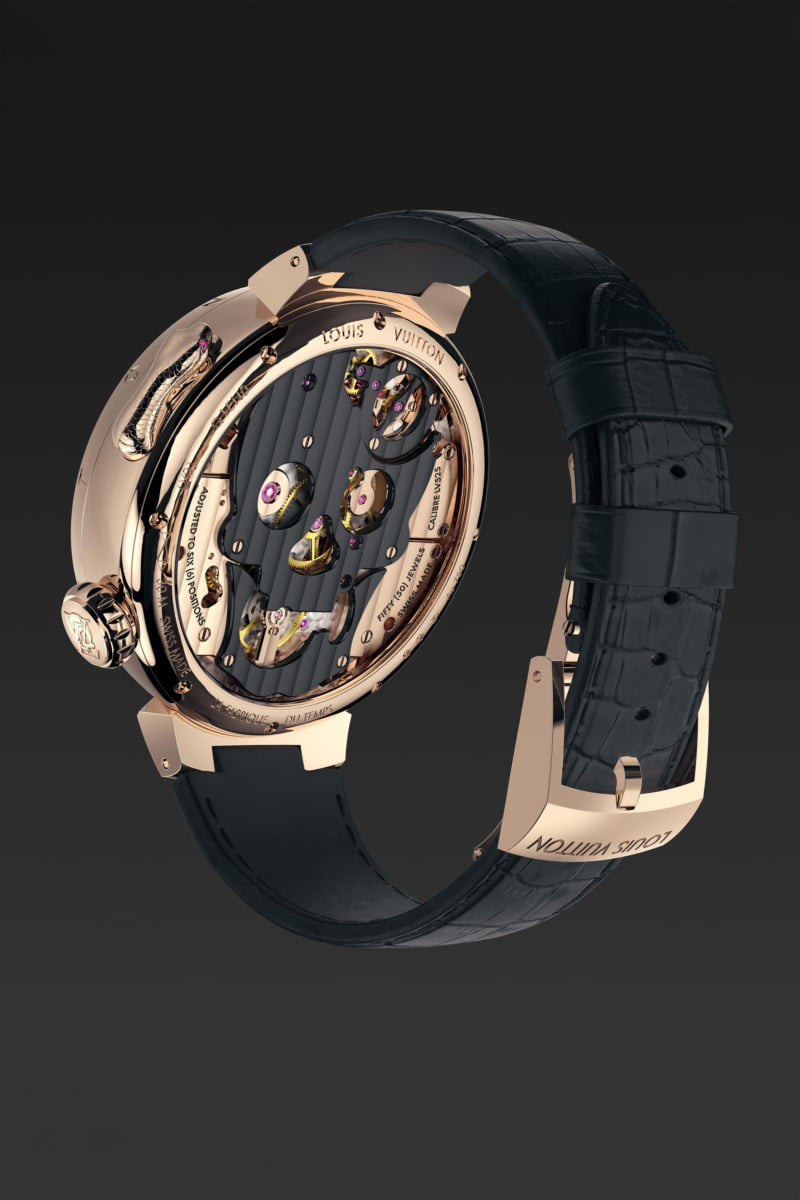 The skull figure has been used in many watches since the 15th century because of its symbolic meaning regarding time. Some most famous and successful examples: Richard Mille Tourbillon RM 052 Skull, Speake-Marin Crazy Skulls, Corum Bubble 47 Flying Tourbillon Skull, Chopard L.U.C Perpetual T Spirit of "La Santa Muerte", Romain Jerome Skull H9C Speed Metal and Hublot Big Bang Broderie Sugar Skull Fluo. There are some brands such as HYT and Bell & Ross that has different approach to the subject each time.  
Let us remember the famous watches of the Scottish designer Fiona Krüger who only focuses on the skull figure and says "Design is a Trojan Horse. It attracts attention but it's the layers of meaning beneath the surface that set the watch apart."
However, Louis Vuitton has created a more aesthetically and technically superior design with its Tambour Carpe Diem watch.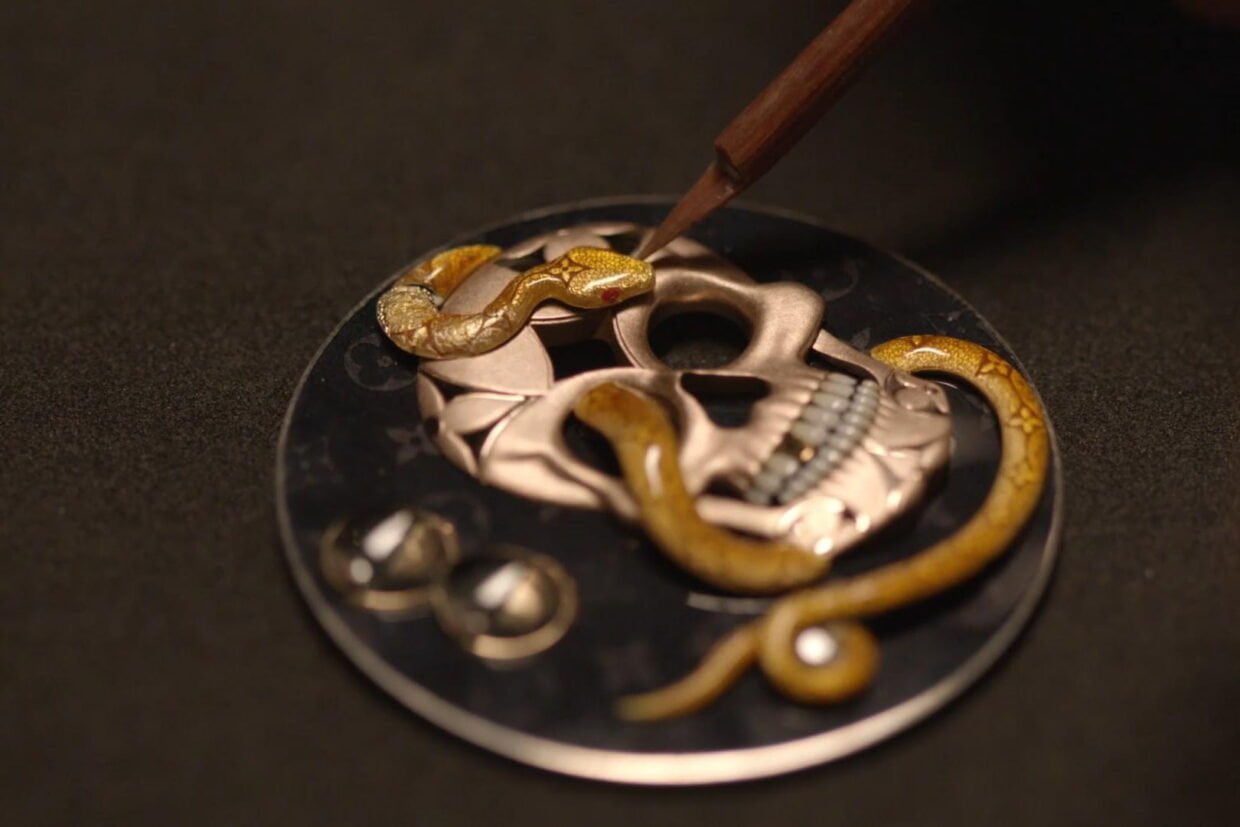 The dial features a series of symbols associated with death, such as the skull, which is ironically designed in rose gold, a snake adorned with the LV monogram, and the hourglass. When pressing the snake button with ruby ​​eyes at the 2 o'clock, dial comes to life. The snake begins to move, the time is visible on the forehead of the skull, and the tail of the snake quickly comes alive and shows the minute. The hourglass indicator is a power reserve. Besides the skull's jaw opens as if it laughs and "carpe diem" is appears in red letters. We understand how automatons fascinated people centuries ago thanks to this view.
The timepiece is in the 46,8 mm case, thickness of the gold rose case is 14,42 mm. Although it is bold for a watch, it is too thin for an automaton. The movement is the hand-wound Caliber LV 525 with extraordinarily beautiful details. The movement consists of 426 parts and has a power reserve of 100 hours. The magnificent handmade craftsmanship was made by enamel master Anita Porchet (dial, snake, and teeth) and engraver Dick Steenman (dial, snake, skull, teeth, and hourglass). There is also a 0.02 carat diamond on the dial.
Let us end this article with a quote from Fiona Krüger; "I love the contradiction between the desire to measure time with absolute precision and time itself which engenders chaos and disorders."