Pomellato is adding new rings, earrings and necklaces to the Nudo collection, which he has designed with vast "nude" precious stones in rainbow color.
After the warm spring rains, the season when we'll see the rainbow most came, the cherry trees began to bloom. When I looked at it, there were no poems, no songs written about spring; I tried to remember what I knew. First I listened to Bülent Ortaçgil's Bahar Türküsü song from his velvet sound, as he said, everything blossomed. Then I went to the creek heights of spring days with the Bahar Şarkısı of Yeni Türkü. And speaking of cherry trees, I remembered Pablo Neruda's poem, " … we called it a jewel/it looked like a thin cherry," and that's how I started writing the new jewels of the Nudo collection, which Pomellato designed with vast "naked" precious stones in a rainbow of colors.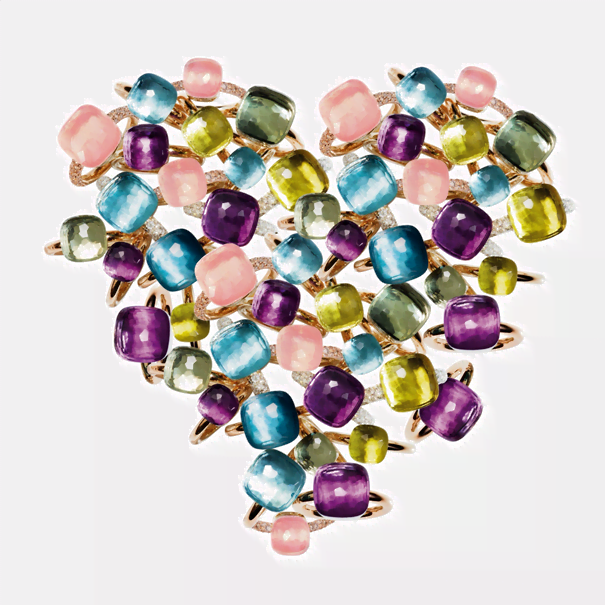 Nudo is one of the most iconic collections of the Italian brand Pomellato, famous for their handcrafted designs. For 2021, the brand has designed their new Amethyst, prasiolite and white topaz jewelry for tasteful and bold women. The collection reflects the colors of audacity for women who carry the spirit of Nudo. In the new collection, more jewel tones and sizes have been added so that women can perfectly reflect their style. Each piece is designed to make women feel powerful, glamorous, unusual and colorful.
The collection includes new earrings, rings and a two-stone lariat necklace. The diamond-encrusted rings are decorated with amethyst, praciolite and white ruby stones.
For elegant necks, a lariat necklace with two amethyst stones and diamonds is designed, including two circle clasp at the end, so that it oscillates harmoniously around the neck.