Nomos Glashütte unveiled three new Club Automatic models to commemorate the 175th anniversary in the Saxon watchmaking tradition.
Nomos Glashütte has announced new models Ludwig and Lambda for collections to honor 175 years tradition of watchmaking in which Glashütte, Germany.  ( You can find an article about 175 years of watchmaking of Nomos Glashütte in Saatolog 2021 issue.) Now, it has announced new limited edition of three new Club Automatic.
Nomos Glashütte Club Automatic watches; onyx black (Ref. 753.S1), navy blue (Ref. 753.S2.) and olive green (Ref. S3) with three new color options and each model is limited to 175 pieces. Movement of watches is DUW 5000 which is the first automatic movement of brand introduced in 2005.
Ronald Schwertner, founder of Nomos Glashütte , founded brand in a year after fall of the Berlin Wall. Although the establishment of a watchmaking company in East Germany by an entrepreneur from West Germany was reacted by local people, Nomos Glashütte achieved to become top producer of watchmaking in the region, thanks to Ferdinand Adolph Lange's (founder of A. Lange & Söhne) determination in the path of watchmaking. Now brand is one of the two brands that come to mind when it comes to Glashütte watchmaking.
All parts of watches, including mechanism, are in-house production and Nomos Glashütte, Germany's largest watch manufacturer, always has a simple style. It is achieved thanks to never leaving the Bauhaus movement and working with industrial designers who were not actual watch designers. There are always a depth in characteristic simplicity of Nomos Glashütte watches, and subtleties which indicate that even the gaps in the watches are considered for a long time. As Thomas Höhnel, one of the designers of Nomos Glashütte, says characteristics of watches; "very clean, calm, pure and German" are fundamental building blocks of the brand.
Sure, when it comes to design aesthetic, one of the important features is that Bauhaus School, Werkbund Movement and modern design concept that heritage of Ulm School of Design. Bauhaus originated in 1920s, but has never lost its freshness and powerful energy, despite over a hundred year.
It is possible to see a new interpretation of this concept in Club Automatic models. Simplicity and the highest level of readability stand out, especially in onyx black model, which stands at high-level as the epitome of a philosophy in which nothing is superfluous. The circular grooves on the small seconds sub-dial at 6 o'clock has an appearance like a Japanese Zen rock gardens. The small second hand also seems to have served as a rake for garden design.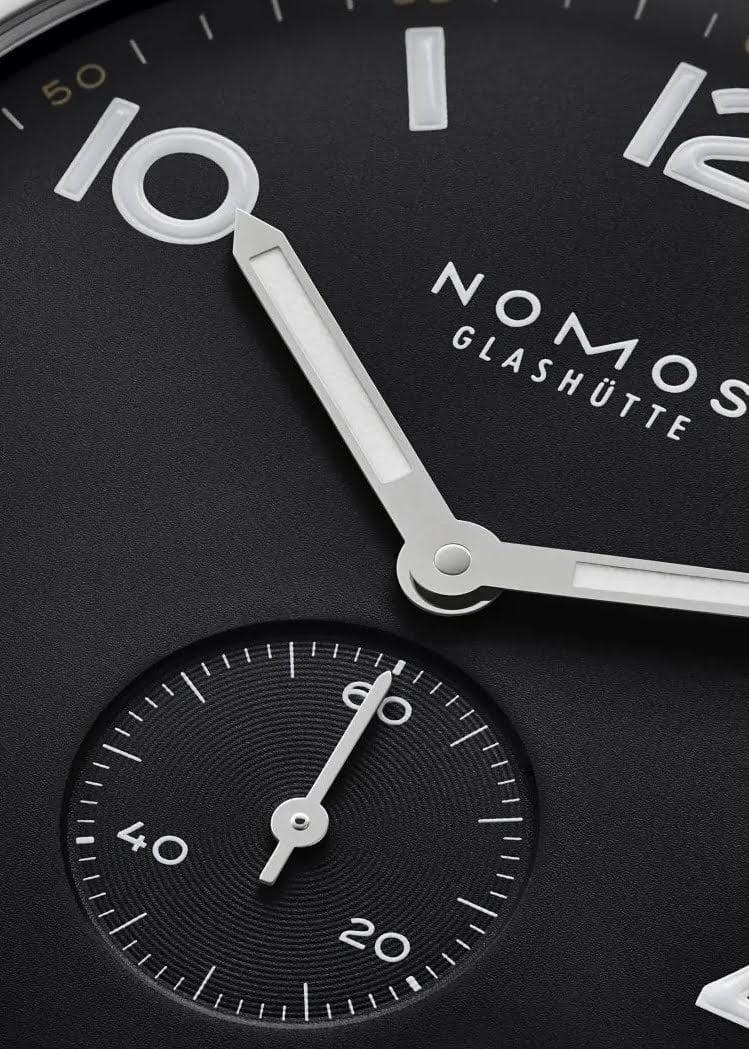 Finally, each of these 40 mm models comes with its own beautiful accessory, that is, both elegant and complementary straps and bracelets: light gray and blue-black fabric strap for olive green and navy models; steel sport bracelet for onyx black version. These watches will be on sale in watch stores and Nomos Store from March, with prices starting from € 1,960.