Hakaan Yıldırım takes us to Sabahattin Ali's story in his collection, which he introduced at Istanbul Fashion Week and was inspired by the fustians and embroideries of Yörük culture.
You will remember our articles about fashion and jewelry collections inspired by art and history. Some collections were inspired by fruits from Renaissance paintings, while others were inspired by ancient Roman sculptures. At Istanbul Fashion Week, we meet a collection designed with a similar inspiration, but the inspiration for this collection is a Turkish film. Hakaan Yıldırım's Autumn Winter 21/22 collection "Letters I wrote to Mahizer" was inspired by the 1990 Turkish film "Hasan Boğuldu". The film is adapted from Sabahattin Ali's story "Hasan Boğuldu", tells a touching love story set in Edremit. This love story is illustrated by the colorful fustians frame of Yörük culture. Yıldırım's archival collection confronts the audience with our time and time itself.
The fabric choice of the collection has been shaped by the influence of this community, which has preserved its roots as it is, and has adopted the language of the colors in its patterns, preserving even the variety of patterns, without any additions and changing the clothing styles of this nomadic community for centuries. The patch details in the designs are inspired by the shape of the triangular Yörük tents.
With the color and pattern identity of the traditional fustian, Yıldırım's unique language and fabrics produced with modern technology are combined. For the whole of the collection, could be say that it is a translation of an ancient language by Hakan Yıldırım. Voluminous pieces with cut-out technique revive an ancient language with patches and bastings.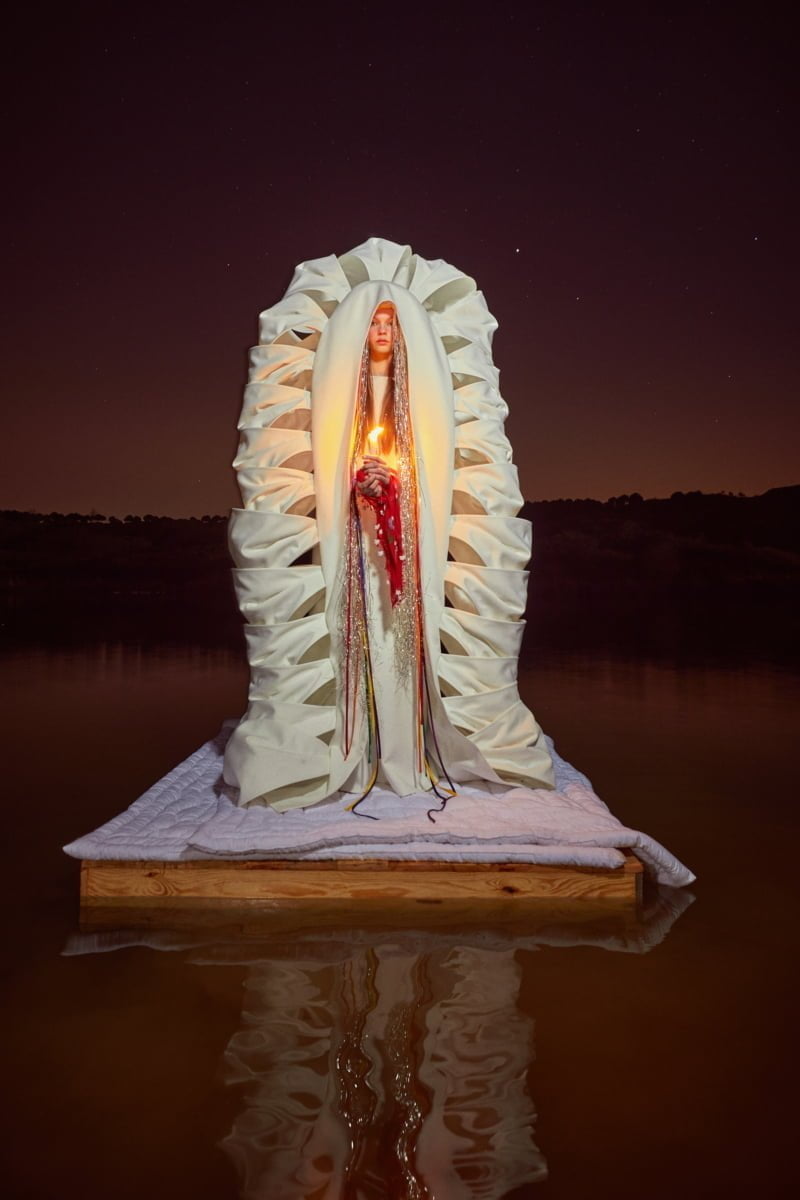 "This collection is like the state I am in, the geography I am in, life and time fitting together. It is like the awareness, acceptance, embrace of my allegiances, my roots, this collective consciousness in this process that hangs in the air, where we cannot determine our direction, where everything changes at every moment. I think, maybe that is why you have been waiting inside me all these years for this collection. The way that the fustian love from afar with prejudice and vaguely arrogance sits inside me, the cynicism, reaches my mind and hand and makes me tell myself. The edge of the quilt reminded me of myself and this collection, that we are not in the air, in suspended uncertainty, that we are connected to something incredibly old from ourselves, to something incredibly old from ourselves," said designer. This collection, with its historical colors and story, invites fashion to an inner journey with the voice of Hakan Yıldırım. In Sabahattin Ali's "Hasan Boğuldu" Emine says, "I took your voice from far away / I found your handkerchief in the stream." We also find the sound of a story from far away in Yıldırım's new collection "Letters I Wrote to Mahizer", which he designed with inspiration from Yörük fustians.