This season many jewelry brand has prepared artistic collection. Now, Louis Vuitton announced a collection that designed by an artistic concept: Louis Vuitton Women's Fall-Winter Collection.
We have been writing a common problem about in our articles for months: Our lives that change because of epidemic. It changed our lives that we could never imagine in a year. We longed to travel, g oto a concert, explore new places in the streets of a completely stranger city. Fortunately, world has quickly adopted to new conditions. Art galleries, museums and even concerts move to virtual spaces; we have followed all event in this way. Our thoughts started revolving around art. Therefore, it is not a surprise for us that fashion brands has also inspired by art in their new collections. ( We wrote about a similar collection in article A Jewelry Collection Inspired by Renaissance Masters.) We are very glad to relation of fashion collections with art. Moreover, we are also glad to that fashion show can reach to more people thanks to live broadcasts. Especially these fashion shows are inspired by art.
Louis Vuitton's Women' Fall-Winter Colleciton is a kind of collection that we have just mentioned above. Collection is prepared in a collaboration with Italian artistic design atelier Fornasetti. Including new designs as well as reinterpretations of iconic models, the bags reflect historical imagery while combining Fornasetti's exquisitely illustrated world with Nicolas Ghesquière's contemporary design.
Nicolas Ghesquière's collection which has Fornasetti's insprations from ancient times exhibited at Michelangelo Gallery in the Louvre. Nicolas Ghesquière's collection with its Fornasetti images of antiquity builds a time-travelling aesthetic and creative dialogue with the museum's remarkable array of Greek, Etruscan, and Roman sculpture. The collection tells an elegant, intellectual and seductive story in which humankind takes center stage.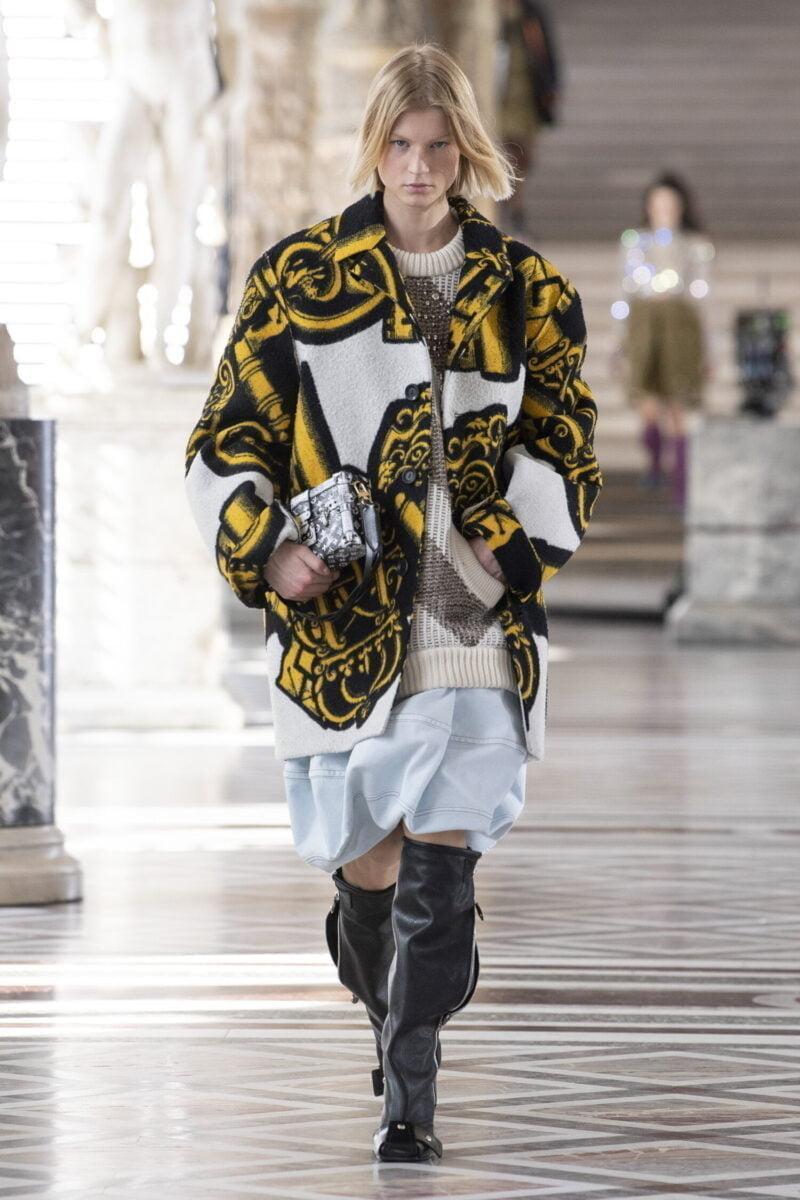 The garments and accessories use a rich combination of colors, textures and traditional and cutting-edge techniques including jacquard, embroidery. Velvet and mohair dresses take on Fornasetti drawings of ancient statues, and bags are embellished with Fornasetti motifs, such as locks and keys, recalling the traditional locks on the Maison's trunks.
This artistic collection had produced with sustainable concept. Set design corporated with the sculptures of the Louve, so LV was able to reduce amount of material used in the show by 70% percent compared to previous years. The totality of the material will be used to build new structures in the creative art sectors. You can both visit an art gallery and examine new pieces of Louis Vuitton by watching the fashion show in which brand's Youtube chanel.